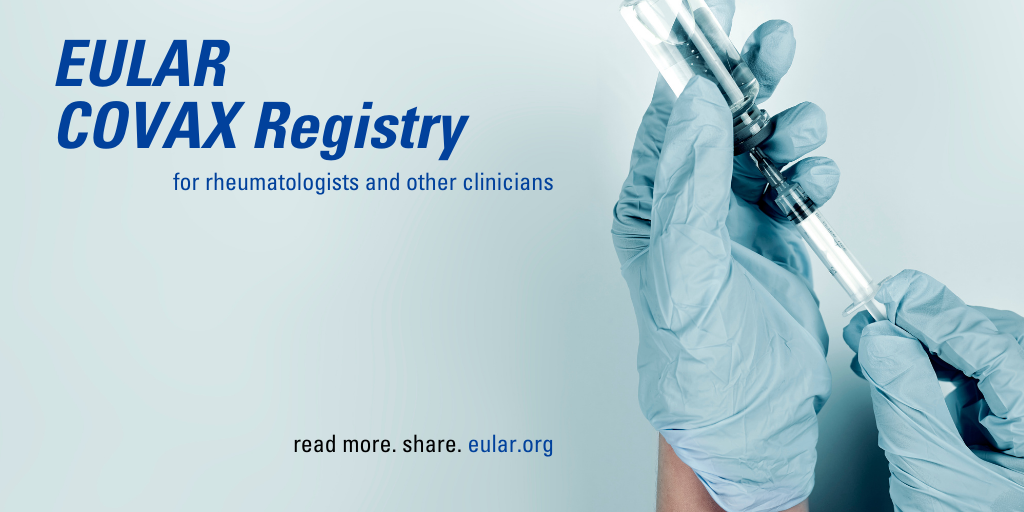 The EULAR Coronavirus Vaccine (COVAX) physician-reported registry was launched in February 2021 and closed on October 31, 2022. Together with its partners, EULAR has registered 11.116 cases of vaccination of patients with RMD diagnoses by the date of the first dose of any vaccine against SARS-CoV-2, including cases since June 2020. This has become possible with the strong support of rheumatologists, physicians, epidemiologists, healthcare professionals, national societies, and patients from 33 countries (EULAR-affiliated together with the USA and Australia).
EULAR would like to sincerely thank everyone who facilitated the collection of these cases for their support and initiative.
.
Latest reports
10 Novemeber 2022
About the EULAR COVAX Registry
The COVID-19 pandemic has severely influenced all aspects of life in 2020. This pandemic also affected people with RMDs, and impacted the care given to them. With the development of vaccines, the future is becoming brighter. However, the possibility of vaccination also raises questions, especially for patients with inflammatory RMDs and patients that are treated with drugs that may influence their immune system.
EULAR has set up a very simple survey to be filled in online after consultation with an RMD patient any time after her/his first or second injection of COVID-19 vaccination. This data will be an important contribution to the arguments brought forward to encourage patients to be vaccinated. For patients without adverse events the survey should take 1-2 minutes to complete. For patients with adverse events the survey should take less than 5 minutes to complete. Please support this important initiative by reporting cases.
Please help EULAR address these questions by responding to the survey of the "Button Above"
EULAR COVAX survey
see survey example
Please report all COVID-19 vaccinated RMD patients, with inflammatory or non-inflammatory conditions.
Please report all COVID-19 vaccinated RMD patients, with or without vaccine-related adverse events.
Please submit reports at any time after the first or second dose of the vaccine.
Please do not report adverse events that are definitely not related with the vaccine administration.
Reporting the maximum number of cases, including cases without adverse events, is extremely important as this will allow us to understand better how common a certain adverse event is.
Related Information
Latest reports
10 Novemeber 2022
---
EULAR COVID-19 Registry
The EULAR - COVID-19 Registry is a European paediatric and adult registry to monitor and report on outcomes of COVID-19 occurring in patients with RMDs.
---
Related Publications
Safety of vaccination against SARS-CoV-2 in people with rheumatic and musculoskeletal diseases: results from the EULAR Coronavirus Vaccine (COVAX) physician-reported registry
Read Paper[*]
Read Lay Summary[*]
---
Contact
If you have any questions about these registries please send an e-mail to eularcovid19@eular.org .
Please note that this email address is for technological clarifications about the Registry and NOT for patient data and queries.
---